Valentimes is the 2nd episode of season 3, the 92nd episode overall of Clarence.
Synopsis
When Clarence notices his teacher Ms. Baker is the only one in class left without a Valentine this year, he decides to enlist the help of Sumo to set her up with Sumo's teacher, Mr. Mozer.[1]
Plot
The episode begins with the children in a Valentine activity, Clarence asks Miss Baker who is her lover, she responds insecurely with what comes to her, Belson says he is nobody and everyone boos, Chelsea explains that not having a partner is not bad.
At the Sumo school, a girl tells Mr. Mozer that it's Valentine's Day, Dunkin delivers cupcakes to the children. Later, Miss Baker enters her car and Clarence invites her to his house. When she leaves, Clarence talks to Sumo to get him an "incredible man".
At Clarence's house, Chad and Mary were having a romantic night until Miss Baker arrives with Clarence. When Mr. Mozer arrives, he and Ms. Baker talk about their things. Later, Mary puts some things on the table and Clarence serves them the juice, When he mentions that it is a date, Mr. Mozer remembers his memory and becomes somewhat nervous.
Then, Clarence reads some things about Mr. Mozer and Ms. Baker, who are upset with that. Sumo serves a disgusting drink and Clarence prepares the "main dish" with an old muzzarela and a lot of salt, so much that he covered all the food, Mr. Mozer is encouraged to try it, but he is too salty, which makes him have to drink what he Sumo prepared, which was also disgusting, then he spits up everything and wets out Ms. Baker who goes in his car, but accidentally runs over Mr. Mozer.
Mr. Mozer and Miss Baker are going to eat something. Finally, Clarence distributes hearts throughout the city and the episode ends.
Characters
Main Characters
Minor Characters
Gallery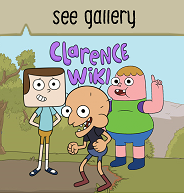 The gallery for Valentimes can be found here.
Transcript
The transcript for Valentimes can be found here.
Clips/Videos
Reference