Thirty Days & Seven Seas (also known as 30 Days & 7 Seas) is a mobile-based strategy adventure game, released by Cartoon Network Games, developed by Sleep Ninja Games, it is available on iOS and Android Devices.
Gameplay
The Player starts off with three characters, in the process of the game plays, which it contains only 6 worlds, depending on the level, as the player is set on a game board to make move from where they start all the way to end, where they will defeat the bosses, as they roll the dice, the player will land on what spot is, will have some positive or negative effect on the player, in addition of it, the player will draw or pick out a card, and whenever the card they have will have some effect, in some spot may lead the player ending up battling the pirates, they will also collect doubloons, either from winning the battle or what spot they land on will only give certain amount of it, there also a store where the player can either purchase a new powerup, or purchase to upgrade the character's abilities.
Game Characters
Levels
Glittering Shores
Cursed Coast
Forbidden Isles
Swindler's Cove
Whale Tooth Bay
Gallery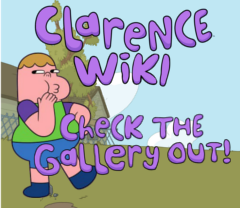 The gallery for Thirty Days & Seven Seas can be found here.
Trivia
This game is heavily base off from the episode Breehn Ho!.
This is the first Clarence based game that does not appear on the Cartoon Network website.
Some of the pirates have some resemblance to other characters in the show:

Tuna Tony resembles Belson, but has hairy chest and other small features.
One of the Swindler's Cove resembles an previous iterations of Joshua.
This could inspire the fire emblem series, due to the fact the moving system is same as the game, and the player and enemy phases are simulur to this game. The only thing with the board is that its size is small, and there is no bonus on a certain space.
Videos
Links
Community content is available under
CC-BY-SA
unless otherwise noted.