The Interrogation is the 1st episode of season 2, the 52nd episode overall of Clarence.
Synopisis
When Mr. Reese discovers his precious car smeared with marinara sauce, he pulls out his officer's cap and enlists Clarence to help him investigate and find the suspect.[1]
Plot
The episode begins in a school parking as Percy, walking while drinking from his juicebox and suddenly was shocked when seeing Mr. Reese's car, covered with tomato sauce, and then fainted, a few hours later, a group of kids, seen laughing at Mr. Reese's car and then came Mr. Reese himself, figuring out what they're lauhging at, come to figure out that it was his car that was vandelized, and leaving him disgrunted, and willing to find the main culprit of this, so allies Clarence to help him solve the case.
Mr. Reese takes a camera from Brady and gives it to Clarence to take pictures. In the next scene, Percy tells Mr. Reese what he saw at the time of what happened, but nothing is of help to Jim, so he sends him to the "waiting room", there is Clarence and tells him how his "wall" is distributed, suddenly, Clarence finds evidence in a photo and shows it to Mr. Reese. Then, you see Belson arguing with Mr. Reese, then, you see him taking out a meatball sandwich from his desk, Belson denies it's his, but Mr. Reese shows him a note that seems to be from his mother, which reveals that his mother gave him a sandwich he did not like and threw the note near Mr. Reese's car.
He also tells us that the sandwich was given to Chelsea, upon hearing that, Mr. Reese sends him to the "waiting room" Belson tells him to ask Chelsea. Mr. Reese goes to pick up Chelsea, Mr. Reese insists that he reveal something of what happened, but she refuses, then Mr. Reese increases the temperature of the place, but begins to feel hot and takes a break , so he calls Clarence, he starts to act in a bad way and frightens Chelsea who decides to tell what he knows, apparently, she provoked the sauce stain in the car, but he did not write anything, Mr. Reese sends to Chelsea to the "waiting room".
Clarence and Mr. Reese argue over who he was, Clarence from one moment to the next, he thinks it was Jeff and he invents a story about how he did it all, Mr. Reese is not sure, but anyway, they intend to catch him . The scene changes, Jeff is drinking water until he notices that a garbage can moves, he stops to see, but then he continues to drink water, there Clarence appears and greets Jeff, this makes him go back and hit the trash bin, where Mr. Reese hides, Jeff tries to escape but Clarence catches him, so he decides to tell what he knows, so he says, he was the one who tripped Chelsea by bending over to pick something up, see what happened, he wanted to clean up the mess, but he simply expanded the sauce stain, that explains the stain on his shirt, after it ends, you see that he was caught in the janitor's room and let him out.
Mr. Reese not being able to solve the case, he decides to put salsa on the floor and everyone to write "Dummerd" (fool) since according to Reese, the one who had the most similar letter was the culprit, but that does not work, so he simply chooses Belson to clean his car, because Mr. Reese did not like Belson. After he sees him cleaning Reese's car, Clarence asks Reese to wet him; Mr. Reese is relieved to have finished the investigation. Then, it is seen that Miss Shoop was the one who wrote what was in the car, and the episode ends.
Characters
Main Characters
Minor Characters
Errors
When Percy went to the chairs on the other side, All the suspects to be seen in this episode are all already there, But later the ones Clarence and Mr. Reese have not taken a talk with are not on the suspect list.
Gallery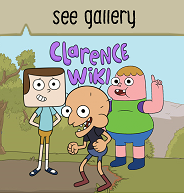 The gallery for The Interrogation can be found here.
Transcript
The transcript for The Interrogation can be found here.
Videos
Reference