Tanner Sumouski is a minor character in Clarence (series). He first appeared in "Dream Boat.
Appearance
His facial features resemble those of his older brother. He has shoulder-length golden blonde hair with bangs that cover his eyes, and he has a well-built muscular body shape. Also, he wears a green shirt with cut-up sleeves and dark navy blue jeans with grey sneakers.
Personality
There's little known about him except him being an older brother of Sumo. He's more of a jerk to his little brother, Sumo, and it's unknown if he acts like this to all his other siblings. However, in "Stump Brothers", when his father was trying to put both into a family tradition test (since he is annoyed of Tanner bullying Sumo), by singly hammer the nail on a tree stump, but when he tries, the nail fails to flatten, leaving Sumo to do it as he succeeds. Later in the episode, he and Sumo were angrily enagaged in combat, Sumo tries to state that Tanner is always messing with him. He finally stated that he wanted Sumo to not get soft but instead to get him to toughen up. He summarized that Sumo's friend, Clarence, is being too soft on Sumo and not being tough enough.
Episode Appearances
Short
Gallery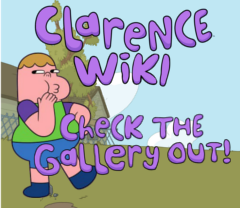 The gallery for Tanner can be found here.
Trivia
Community content is available under
CC-BY-SA
unless otherwise noted.