Sumo Goes West is the 1st episode of season 3, the 91st episode overall of Clarence, This marks as a season premiere for Season 3.
Synopsis
Clarence learns his best friend Sumo may transfer to another school! It's up to Clarence to protest, petition and rally to convince everyone to let Sumo stay – or face losing his closest school pal!
Plot
The episode begins when the mayor of Aberdale is playing with his toy airplane, but his playtime gets interrupted by a man who tells him to sign a few more papers. The last paper included the school borders of Aberdale and West Aberdale Elementry. The mayor quickly makes the border in a straight line, making Sumo's house on the border of West Aberdale Elementry. The teachers discuss the children leaving Aberdale Elementry, and Mr. Reese shouts out the window to Sumo that he is moving to a different school.
Sumo and Jeff seem calm about the move, but Clarence gets more emotional with claiming that he and Sumo would never get to see each other again, though they would. At Sumo's house, Jeff tries on Sumo's uniformal shirt while Sumo ripped his uniformal pants to resemble his old pants. Clarence comes in, and seeing Jeff wearing the shirt, believes that Jeff is leaving too, and runs off to make it to where all of his friends stayed with him forever. Clarence is pursueded by Sumo not to do this, and Clarence is left to face that Sumo is leaving. Clarence at first is not able to handle school without Sumo, seeing that Belson won't take his notes and that Jeff doesn't like his lunch acts. Clarence and Sumo are able to solve this problem by sharing walkie-talkies, and soon don't notice the difference between their schools. The episode ends where Clarence and Sumo are trying to dig a tunnel leading to each other's school in their school's sandbox.
Characters
Main Characters
Supporting Characters
Minor Characters
Gallery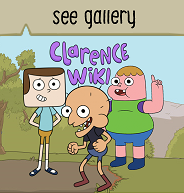 The gallery for Sumo Goes West can be found here.
Transcript
The transcript for Sumo Goes West can be found here.
Clips/Videos
Reference
Community content is available under
CC-BY-SA
unless otherwise noted.