Sumo's Brothers are minor characters in Clarence. They were first mentioned in "Clarence Gets a Girlfriend" and was first seen in "Jeff's New Toy".
Description
Sumo has 11 brothers; eight younger and two older. The younger brothers all appear close in age to Sumo, with the exception of one, who is still an infant. The two older brothers appear to be teenagers; however, and have long hair covering their faces. The brothers are not named (only numbered in model drawings) and bear a striking resemblance to Sumo and their father, the most notable difference is hair color (either dirty blonde or brown) and style (though most have a shaved patch somewhere) though the two eldest brothers have long hair that cover their faces.
The first brother (sitting next to their mother) has brown hair, an orange shirt and purple pants. The next brother has combed blonde hair, though he's nearly bald. He has a light green shirt, brown shorts and red shoes.The third has brown, curly hair and is also mostly bald. He has a gray tank top, blue pants and gray shoes, He's the tallest of Sumo's younger brothers.
The fourth has brown bangs (in the middle of his head), brown tufts of sideburns on the side but no hair anywhere else. He has a dark green shirt, olive green pants and green shows. He's the shortest one. The fifth brother has long blonde hair which is shaved on the sides. He has a red shirt, grayish yellow pants, and brown shoes. The sixth has blonde hair, a gray shirt, green pants and blue shoes. The seventh brother has brown hair, a purple shirt, blue pants and brown shoes. The eight has a blonde hair mohawk, a dark orange shirt, purple pants and gray shoes.
The eleventh brother was just an infant, as seen in Suspended.
Episodes
Season 1
Season 2
Season 3
Short
Gallery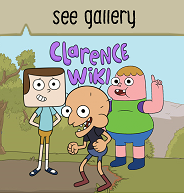 The gallery for Sumo's Brothers can be found here.
Community content is available under
CC-BY-SA
unless otherwise noted.