Stump Brothers is the 14th episode of season 2, the 65th episode overall of Clarence.
Synopisis
When Clarence and Sumo cause a power outage at Sumo's, they are sent with Tanner to retrieve a generator part.[1]
Plot
The episode begins at Sumo's house, everyone is exhausted from the heat, Sumo drinks water, Clarence pretends to be a robot when talking near the fan, when Sumo is drinking water, Tanner arrives and sits on Sumo, which causes him to get upset, then Mel sends them out to nail nails, Sumo ends up winning and Mel demands Tanner to apologize to Sumo, he does not want to admit that he lost and leaves.
Sumo takes Clarence to his garage, there is a refrigerator which they spend time playing with, but after putting the refrigerator in the minimum temperature, it breaks down the power generator, which makes the power go off, Mel blames Tanner for being all day on the internet and send him, Sumo and Clarence to buy the spare parts for the generator, Tanner wants to do it his way.
Later, both are on Mel's vehicle going to the spare house, Clarence almost reveals that they destroyed the generator, suddenly Tanner raises the speed but can not stop the vehicle and they crash against a tree, in that moment Pete arrives and guides them to his house of spare parts, Clarence joins the children of the house of spare parts and Pete gives them the spare parts to Sumo and Tanner, but none of them took money, so Pete decides to nail nails with one condition, if he wins, he stays with Clarence, if they win, they take the spare parts, Pete will play alone and Sumo will play along with Tanner, after some tries, Sumo and Tanner win, but Tanner takes the spare parts and runs away, Sumo chases him and Clarence also leaves, but not really excited, finally, Sumo throws himself on Tanner and they start to fight. Tanner explains why he bothers him and in that moment Mel arrives, he does not even bother to ask what happens and takes Tanner, Sumo and Clarence in his truck.
Tanner talks to Sumo, when Mel sees his vehicle destroyed he asks who destroyed it, Clarence lies saying he broke everything because "he's a bad boy" then Mel passes him to the back seat and the episode ends.
Characters
Minor Characters
Reception
The episode ratings received by 1.31, which is one of the highest rated episodes in Season 2.
Gallery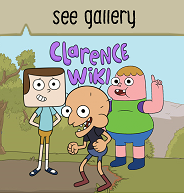 The gallery for Stump Brothers can be found here.
Transcript
The transcript for Stump Brothers can be found here.
Videos
Reference
Community content is available under
CC-BY-SA
unless otherwise noted.