Slumber Party is the sixteenth episode in Season 1 of Clarence.[1]
Synopsis
Clarence attends an all-girls slumber party, leaving Jeff and Sumo at odds.
Plot
The episode starts with Kimby, Courtlin, and Malessica talking about a slumber party they are going to have. Kimby was going to invite Darlie, but Darlie threw up in gym and went home early. Jeff was doing his work when Clarence distracted him by putting pencils in his mouth and writing with them. He eventually falls off his seat and pretends he's a "pencil walrus." All the kids in the class laugh until Ms. Baker puts him on a desk in the first row. He finds an invitation that was meant for Darlie on his desk and thought he was invited.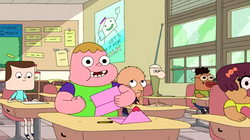 When class ended, the girls were talking about what they were bringing to the slumber party. Clarence jumps in, puting gummy worms in his nose and playhitting Malessica. Courtlin asks if Kimby invited Clarence and before she could answer, Clarence gave them a big hug. While at lunch, Jeff and Sumo were talking about what they were going to do tonight. They both didn't know what to do and asked Clarence. Clarence says he can't go because he's going to Kimby's slumber party. Jeff says he doesn't think he should, Clarence goes anyway.


Later on, Clarence goes to Kimby's house covered in gummy worms.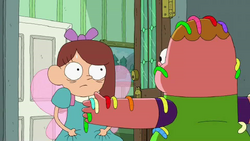 While Kimby was walking Clarence to her room, Clarence says how he'll have fun with anybody. Much to his surprise and horror, he realizes that what he thought was a sleep over was actually a slumber party and Kimby, Courtlin and Malessica were having fun playing with dolls.
Back at Jeff's house, Jeff was drawing spiral circles and Sumo was messing with Jeff's stuffed dinosaur toys, launching them towards the wall with a beanbag chair. Both of them eventually get bored because Clarence isn't there. Clarence gets nervous and goes to the bathroom to reconsider. He tries to play with the girls but makes them uncomfortable. Jeff and Sumo play a board game. While Sumo blanks off, Jeff trys to say it's his turn, but Sumo explodes with uneasiness. Jeff suggests one of them act like Clarence, but it doesn't work out for either of them. Clarence was eating cookies while Kimby, Courtlin, and Malessica play an orgiami love game. Suddenly, Clarence notices Malessica and how she was bummed out that Jeff may not like her from the game. He tells her that Jeff was his best friend and can hook her up with Jeff, even though she didn't want to. Kimby and Courtlin on the other hand, were excited for this.
The phone rings at Jeff's house and Malessica is too scared to answer. Clarence then pretended to be Malessica and said Jeff was an upstanding gent. Jeff and Sumo talk about the call after that. Courtlin asks how Clarence does he ask like he is. Clarence gladly shows Kimby and Malessica how to have fun "the Clarence way." Jeff tries to call Malessica back, but Sumo stopped him. Jeff tries to convince Sumo to let him call by saying Clarence would agree, but Sumo says that Clarence wasn't here and was at the slumber party. He, along with Jeff, start mocking Clarence because he was doing "girly things." Jeff then hits Sumo with a pillow to act out a typical girls slumber party activity, causing him to giggle.


Clarence and the girls were still having fun, doing various activities "the Clarence way."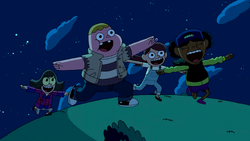 They later stopped on the sidewalk and ate gummy worms that Clarence shared. They were all talking about how much fun they had, but Malessica feels bad that she never got the chance to tell Jeff how she feels about him. Clarence then gave a speech of how Malessica should still tell Jeff. It started out good, but eventually went weird and inaccurate. However. it inspires Malessica and she, Clarence and the girls went to Jeff's house to tell him.
Ironically, Jeff and Sumo ended up doing the "girly things" that they thought were weird. By the time Clarence and the girls come, Jeff and Sumo are dancing to a song.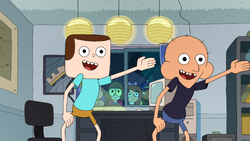 Kimby suggests they should go back to her house and throw sticks at each other. Everyone agreed, leading Malessica to lose feelings for Jeff. Clarence decided to go back with Jeff and Sumo. Both of them were happy that he was back and Jeff asks if Malessica said anything about him. Clarence, however, told him there are plenty of girls for him and he was an upstanding gent. These words from Clarence immediately dawns on Jeff as he realizes that it was Clarence on the phone. Scene changes to black as Jeff screams in disgust.
Characters
Major Characters
Supporting Characters
Minor Characters
Trivia
A high amount of clips from this episode were shown in commercials and at Comic Con for Clarence before it officially came out on Cartoon Network.
Continuity
In an interview with the creators of Clarence, they said that if it wasn't for Clarence, Jeff and Sumo would probably not be friends. This episode proves it, since Clarence was away from Jeff and Sumo for most of the time and the two of them struggling to figure what to do or even put up with each other for that matter.
Character Connections
It is revealed that Malessica has had feelings for Jeff.
This episode shows Clarence's feeling about girls. It shows that he generally treats them as he would anyone else: with kindness and friendliness.
Episode Connections
This episode may had take place after "Straight Illin", since Jeff says "Remember when Clarence put all those deviled eggs in his mouth?"
Cultural References
There is a poster on Kimby's wall which is a reference to Twilight.
Theres also a poster with N⭐️Tune which is a reference to NSync
Controversy
The "Join the Hug Force" scene (as well as the promo pic) that was used in several promos (before the airing of the episode) which the episode, alongside with Puddle Eyes (in a minor case) [citation needed] became into the subject of it being nearly controversial as this due to Skyler Page being accused of the incident with a female worker from another show, which it led to him being fired by the network afterwards.
Errors
Kimby was going to invite Darlie to the slumber party, but Courtlin said she threw up in the gym and had to go home. However, Darlie is seen in the classroom, looking fine.
Songs
Clips
References
Community content is available under
CC-BY-SA
unless otherwise noted.