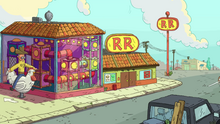 Rough Riders Chicken
is a prominent fast food establishment within the
Clarence
universe, appearing in episodes such as "
Fun Dungeon Face Off
"
and "
Rough Riders Elementary
".
While it could potentially differ in other states, the Aberdale Rough Riders are very dumpy, the inside is decrepit and run-down, piles of litter surround it and the overall atmosphere is very dreary. The Fun-Dungeon is also very dirty. Rough Riders is very similar to McDonald's and K.F.C.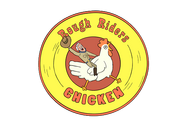 Employees
Episode appearances
Menu
Rough Riders Chicken offers a variety of items. The majority are very generic and unappealing, such as the Chicken Parfait.
As seen in the episode "Fun Dungeon Face Off", there are :
The Hip Watcher's Chicken Salad, an obvious nod to Weight Watchers.
The Chicken Burger with Rooster Sauce

Chicken Burger does not include Rooster Sauce every time a Chicken Burger is ordered.
The Scout Meal; containing a burger, a side of fries, a drink and a boy/girl toy, which is all similar to a McDonald's Happy Meal
Trivia