Regis Gilben, mostly known as Gilben, is a minor/background character in Clarence. He made his first appearance in the "Pilot". He made his first major appearance in "The Big Petey Pizza Problem".
Appearance
He has beige hair and wears a lilac shirt, brown pants and darker brown shoes.
Personality
He is a weird odd ball in the show so far. He usually just stands in the background like a statue.
Trivia
On Twitter, Spencer Rothbell said that Gilben is "very mysterious," probably as no more than a joke.
When Gilben 'speaks', an eerie wind blows instead of a voice. Everyone can seemingly understand this.
Gilben may have psychic powers, as he's seen beating up Jeff without moving in "The Big Petey Pizza Problem".
Gilben and Jeff share the same birthday, as they had both had their parties on the same day, which happened in "The Big Petey Pizza Problem".
Although most of the time Gilben doesn't move, in "Clarence's Millions", he is seen eating stickers and saying "Whoa!".

In "Detention", Gilben moves his mouth when the kids open up the cabinet full of toys.
In "Clarence Loves Shoopy", he moved again, while Ms. Shoop had chased everyone out of her house, Gilben is seen turning and running like everyone else did.

Gilben may be able to know that he is being watched. And as said before, it seems he is psychicly communicating with the other characters, but not you, as you can't hear what he is saying and all other sounds go quiet when he 'speaks'.
As seen in "Saturday School", he keeps crystals in his desk.
Gilben is rarely seen smiling or frowning, even after the events of "Clarence's Millions", as shown in the episodes "Average Jeff", "Straight Illin", "The Tails of Mardrynia", and other episodes. Gilben is also seen doing this in the Intro.
He was inspired by Guy Blank from Strangers With Candy.
The only time he "talked" in the episodes "The Big Petey Pizza Problem", "Balance", and the short "Have a Ball (the "talking" however is wind). In other episodes, he does not seem to be able to speak.
His full name is an obvious parody of American media personality Regis Philbin.
In "Gilben's Different", it's revealed that he has a moustache, it's unknown if he's slightly older than Clarence and other kids, until he shaved it off.
Gallery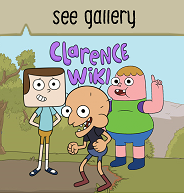 The gallery for Regis Gilben can be found here.
References
Community content is available under
CC-BY-SA
unless otherwise noted.