Puddle Eyes[1] is the fourteenth episode in Season 1 of Clarence.
Synopsis
The school hosts a "20/20 VisionBee", unfortunately Clarence gets blinded by getting mud in his eyes.[2]
Plot
The episode begins at recess where all the kids are playing. Clarence plays with his hotdog guy and Robofrog toys, he is very sleepy though, so he makes the Robofrog toy use a sleeping spell and makes his toys sleep, then Clarence plops down in a mud puddle and falls asleep. Soon, The bell rings and all the kids go back to class, except for Clarence, who is still asleep with his face in the mud. Inside,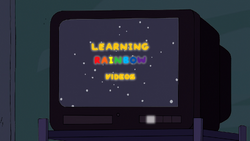 Ms. Baker shows the class an educational video about the Sun. When the video is over, Ms. Baker turns the lights back on and realizes someone is missing. Belson looks out the window and sees Clarence sleeping in the mud, but he closes the blinds and says that Breehn is out sick, even though Breehn is sitting behind him.


Outside, Clarence is still asleep. An acorn falls on Clarence's head and wakes him up. Clarence spits out all the mud out of his mouth and realizes he can't see anything because there was mud in his eyes, but Clarence thinks the mud is skin that sealed his eyes shut. Clarence tries to get used to not having vision, so he starts running around trying to guess what everything he bump into is. In class, Ms. Baker says the spelling bee is cancelled, Jeff gets very disappointed and Ms. Baker says that they're going to do a "Vision Bee" instead. Ms. Baker distributes some posters about the Vision Bee to the class. Jeff says the Vision Bee sounds unfair because people who have better vision would have an advantage, but Kimby and the rest of the class says the Vision Bee sounds fun.


Meanwhile, Clarence runs around the school halls bumping into everything, supposing that they are other objects.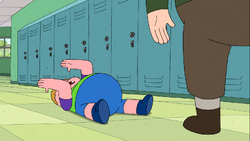 Clarence ends up bumping into Mr. Reese, who asks Clarence why he isn't in class. Clarence replies saying that his reading days are over because he can't see anymore. Mr. Reese doesn't understand and tells him to wash the mud off his face and go back to class. While the rest of the class are getting ready for the Vision Bee, Jeff and Sumo are choosing the name for their team. Jeff wonders where Clarence is, so he goes out to look for him.


Meanwhile, Clarence is still running around the school halls and mistakes some little kid's hair for a dog. Jeff finally finds Clarence, Clarence thinks it's Gilben at first, so he starts touching Jeff's face. Jeff wants him to stop playing and tells him to wash the mud off his face, but Clarence does not understand. As Jeff tries to remove the mud from Clarence's eyes, Clarence's shirt comes off and and he starts running around the halls, and Jeff chases after him. When he finally catches Clarence, he tries to put Clarence's shirt back on. At that moment, Sumo arrives and asks what they're doing, and says the Vision Bee is starting. He also tells them about the team name he chose: "Sumo and the Laser Twins" Jeff still wants Clarence to wash his face, and Sumo argues with Jeff because he shouted at Clarence. Jeff decides that he had enough of Clarence being blind, and he walks off. Sumo tells Clarence that he's going to help them win.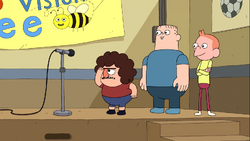 Meanwhile, the Vision Bee is on and Belson's team had just finished with 60 points. Sumo and Clarence were up next. Sumo turns on some music and the two start dancing. Ms. Baker tells them that they're missing a team member, so they're going to be disqualified. Sumo and Clarence get disappointed, then all the sudden, Jeff enters the room in a strange suit (he is dressed up as an ophthalmologist) and says to has the cure for Clarence, Dr. Jeff's Famous Elixir, which is a water spray that he uses to clear the mud from Clarence's eyes. Clarence is finally able to see again, and he could read the letters on the board perfectly. Then the three starts celebrating thinking they won, but it turns out that each team member has to read the letters on the board. Jeff covers one eye and looks at the board, but everything appeared blurry. Jeff guesses the first letter is "F", and gets it wrong. Jeff complains not believing the fact that he's worse than Clarence, and the episode ends.
Characters
Minor Characters
Trivia
Jeff seems to have poor vision in at least one eye according to this episode, shown when he covers one eye to participate in the vision bee.
It is unknown where Jeff and Sumo were at recess since Clarence was alone with his toys.
Episode Notes
When asked on Twitter what his favorite episode was, Spencer Rothbell said that, while he doesn't have a favorite, he does like Puddle Eyes.
Character Connection
In this episode Ms. Baker is slightly redesigned.
Cultural References
Learning Rainbow is likely a parody to science related shows such as NOVA and Bill Nye the Science Guy, the title is a parody of Reading Rainbow.
When Clarence mentioned the crazy eye pyramid it is a reference to the Illuminati except that it is of violet stroke, it has eyelashes and it is imaginary.
Errors
Clarence's clothes used to be muddy, but when he's in the school building, his clothes are clean.
Video
References
Community content is available under
CC-BY-SA
unless otherwise noted.