Pretty Great Day with a Girl is the second episode of Season 1 of Clarence and the second episode overall.
Synopsis
Clarence bonds with a girl down the street over a hunt for a monster-sized rock called an "erratic".[1]
Plot
The episode begins with Clarence playing with a hose and pile of mud. Soon Amy comes out from her house while moving people come to take her family's stuff. She sees Clarence, sticking the hose into the pile and mud flows out while he yells things like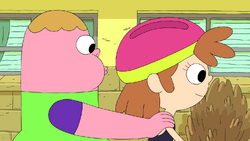 "Ahh it's a volcano!" and "Ow, it burns!" Amy decides to meet him ask if he wants to ride bikes. Clarence says he won't be able to get one to Christmas and Amy decides to hop on her pads. Amy then says that they are going to look for an erratic.
Clarence wonders what it was so he and Amy looks it up on the internet. Mary asks what they were doing and they said they were going to look the erratic. Clarence decides to pack up some sandwiches and water since the trip was going to be long. Clarence and Amy then ride on the bike all around town and on the way,
Belson
sees Amy and Clarence hanging out together. He tells
Nathan
,
Dustin
and Percy about it and they think Clarence and Amy are "making out". When Clarence and Amy were in
Bendle Park
playing around, they find the erratic boulder and decide to play on top of it, until Belson and his
gang show up.
Belson warns them that they are on their rock and if they don't leave, they'll start a pine cone war. Amy and Clarence refuse to leave which leads to Nathan, Dustin and Percy throwing pine cones at Amy and Clarence. They retaliate by throwing moss from the large rock. Sumo, who came somewhere when Belson and his gang were spying on them, decides to play along by running around with pine cones in his hands. The war goes on and eventually, Amy has to leave for dinner, thus leaving Belson and his gang exhausted. They ride back home, Amy dropping Clarence off in front of his house. Belson and the gang come to Clarence, asking about what he and Amy did together. The episode ends with everyone eating the sandwiches Clarence packed.
Characters
Major Characters
Supporting Characters
Minor Characters
Trivia
Character Connection
Continuity
Songs
Clips
Reference
Community content is available under
CC-BY-SA
unless otherwise noted.