Pool's Out For Summer is the 11th episode of Season 3, the 101st episode overall of Clarence.
Synopsis
The boys go the Aberdale Community Pool for a day of wet fun; Jeff wades in the shallow end; Sumo tries to conquer the diving board, redeeming himself from last summer's bellyflop; Clarence sneaks past the lifeguards into the hot tub.
Plot
Clarence, Jeff and Sumo prepare for what they will do in the pool, Samuel arrives and explains that they can put anything in a belly bag and take it to the pool.
The three of them go out, Clarence wants to get into a jacuzzi, but there is an old man inside who does not allow it. Samuel gets in the pool making a giant wave and Clarence and Sumo start having fun. Sumo tells Clarence about the "deep end" of the pool, even making him believe that it never ends.
Sumo wants to jump from a diving board, but he loses inspiration by remembering what happened to him the previous time; Later, Clarence convinces him and Sumo jumps on the small diving board, then, Samuel asks him if he is going to jump on the big one, Clarence makes him accept the challenge. Clarence takes the goggles from Jeff and goes to the "deep end" to see if what Sumo says is true.
Sumo goes up to the big diving board, but he scares and stumbles, getting stuck on the diving board. Unable to leave, the guard runs to rescue him, Clarence takes advantage of the distraction and goes to the deep end. The guard accidentally breaks Sumo's suit, causing it to fall into the pool and everyone can see his butt. The guard wants to cover Sumo with a towel, but he resists and runs from her.
Clarence finally gets into the jacuzzi and throws vegetables in it, which turns out to be the "Clarence Soup". Jeff manages to get into the water and he realizes that it was not cold. Sumo eats some vegetables and Samuel goes to congratulate him for what he did. Jeff has fun in the pool, then Clarence, Sumo and Samuel go with him. When it gets late, the guard takes out Clarence's vegetables from the drain, mentioning that she hates the summer and ending the episode.
Characters
Main Characters
Minor Characters
Gallery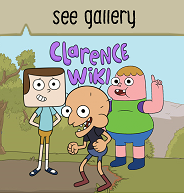 The gallery for Pool's Out For Summer can be found here.
Clips
Transcript
The transcript for Pool's Out For Summer can be found here.
Reference
Community content is available under
CC-BY-SA
unless otherwise noted.