Pizza Hero is the 39th and the final episode of season 2 and thus the season finale, the 90th episode overall of Clarence.[1][2].
Synopsis
It's the end of the school year, and as is a tradition at Aberdale Elementary, Papa Marianio is slated to dish out his famous pizza along with a song and dance spectacle. As the kids wait in excitement, they share memories about times with Papa.
Plot
Mr. Reese announces the winners of the awards for that school year, but to Jeff's bad luck, none of the prizes he is saying are for him, because the prize for more punctual was won by Darlie, the most active reading was for Breehn and the most studious is Percy. Meanwhile, children and adults tell their story with Marianio; Clarence was saved by Marianio when, as a child, he fell off the statue of Rough Riders Chicken and Marianio placed a pizza on the ground; Miss Baker was delighted by Marianio when he handed her a heart-shaped pizza while she cried for breaking up with Damien.
When Percy wins the prize, he goes to the stage and tells his story with Marianio: One time, Percy was on his bike, but a wheel was punctured and Marianio replaced it with a pizza. Jeff gets angry and Sumo tells his story: Sumo was putting rubberbands on a watermelon, but when it is about to blow up, Marianio throws himself on the ground to save Sumo. The public makes a sign of "loyalty" to Marianio and Miss Shoop tells her story: One time, she asked for pizza and Marianio did not have normal boxes, so he divided the pizza into several individual boxes, then Miss Shoop made a doggie house with these boxes. Clarence hugs Miss Shoop and Chelsea and Chad tell their stories: Marianio taught them how to distribute the pizza correctly; Camden tells that Marianio gave him a pizza without his allergens.
Gilben tells his story: You see a black background with a red bulge and pizzas with a mouth approaching him, suddenly Marianio arrives and delete the pizzas. The audience laughs and Mr. Reese says that Gilben's story is the best. Suddenly Jeff receives the best smile award and he goes on stage to give a speech, but seeing that no one is interested in that, he tells the true purpose of the memories with Marianio: Marianio was using distilled water when he saved Clarence; the pizza on Percy's bicycle was crushed and the bicycle could not work properly; who taught Chad and Chelsea to split the pizzas was really Mr. Keezheekoni teaching both pie charts; Jeff tells Ms. Baker that it is disturbing that Marianio knows about their relationships; finally, it is shown that when Marianio fell and the watermelon exploded, he really fell out of Miss Baker's apartment.
Belson gets angry (to the point of crying) and tells his story: When he broke his bones and was taken to the hospital, Marianio made him drink sauce that made him feel better. Jeff mentions that Marianio is a weirdo, then everyone becomes sad (with even Percy saying he doesn't wanna go on living). But Jeff selfishly says, "That's better." and Jeff tells the reason for his prize, but no one cares because of their sadness, Jeff decides to tell his bad story with Marianio: On his 7th birthday he was eating pizza but the filling fell out on his shirt, of course, being a perfection freak he is, freaks out seeing it as how his "perfect" birthday was ruined (Sampson points out how that was Papa Marianio's fault after he finishes his story). Sumo convinces Jeff that he should not remember bad things. At that moment Marianio arrives and the children leave the gym, leaving Jeff alone, the children return and it turns out that Marianio disguised himself as Jeff and opened a large curtain on the roof from which poured innumerable pizzas. Marianio stumbles and falls, ending the episode.
Characters
Main Characters
Supporting Characters
Minor Characters
Errors
After everyone heard Jeff's reminder and being upset Clarence's sleeves on his shirt are green instead of purple.
Chad's Hairy Legs are missing.
Gallery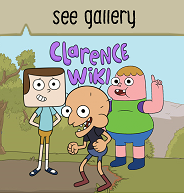 The gallery for Pizza Hero can be found here.
Transcript
The transcript for Pizza Hero can be found here.
Clips/Videos
Reference
Community content is available under
CC-BY-SA
unless otherwise noted.