Patsie is a minor character in Clarence.
Biography
Patsie is a student in Ms. Baker's fourth grade class, though she looks much younger than most of her classmates. Patsie is very studious, taking several books home with her ("Fun Dungeon Face Off"), though also very much a child, playing ball pits and picking her nose ("Clarence Gets a Girlfriend").
Appearance
Patsie is small child with short, curly blonde hair and big, blue eyes. She wears an orange t-shirt with a purple cat on it with green shorts and violet shoes.
Personality
Like most background characters, very little is known about her at the moment.
She tends to act much younger than the other kids in her class: in "Fun Dungeon Face Off", she play-wrestles with Crendle in the ball pit, while in Clarence's Millions she's seen casually picking her nose. However, she does seem to take her schoolwork seriously. In "Clarence Gets a Girlfriend", she can be seen carrying a huge stack of books (which collapsed on her after Jeff, who was jealous of Clarence at the time, fails to get the door for her).
Like most students, she loves to take part in Clarence's silly adventures, as seen in "Clarence's Millions" and "Honk".
Episodes
Season 1
Season 2
Season 3
Comics
Trivia
Gallery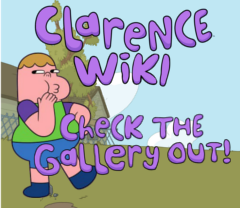 The gallery for Patsie can be found here.