Neighborhood Grill is the twenty-first episode of Season 1 of Clarence.[1]
Synopsis
Clarence cannot stop himself from intruding on Ms. Baker's date.
Plot
At the start of the episode, when school is over, Ms. Baker tells the children to have a great weekend. After they leave, Ms. Baker shuts the door, looking tired. Later at Chuckleton's,
Joshua goes up to Ms. Baker to ask if she's ready to order. Ms. Baker tells him that she's doing a blind date so she's expecting another person. Meanwhile at a different table, Clarence talks to Mary and Chad about what he learned at school, then Joshua appears and takes Mary and Chad's orders, but when he sees Clarence, he gets flashbacks from "
Nature Clarence
" and runs off. When Clarence sits down, he notices Ms. Baker at one of the tables in the distance. Clarence gets confused, wondering why his teacher would be at a restaurant. Clarence wants to go up to Ms. Baker's table to find out what's going on, but Mary wants him to mind his own business and leave her alone.
Ms. Baker tries to send a message to her friend to find out why her date is taking so long to arrive, but the message doesn't send.
Soon, an old man arrives and Ms. Baker hopes he's not the one, but he is and he sits at Ms. Baker's table. The old man tells her to call him Larry. Larry asks Ms. Baker some questions and he writes down all of her answers. Meanwhile, Clarence can't stop staring at Ms. Baker, so he pretends he has to use the restroom so he can sneak to Ms. Baker's table. Larry continues asking Ms. Baker questions, then he gets up to go to the salad bar. At that moment, Clarence arrives at the table and surprises Ms. Baker. Clarence wonders why she isn't at school, then he imagines that Ms. Baker is a robot that shuts off in the classroom when school is over. When Clarence's vision is over, Ms. Baker explains that she doesn't live at the school and that she's at the restaurant with a friend. Clarence sees Larry and wonders who he is, and how Ms. Baker knows him.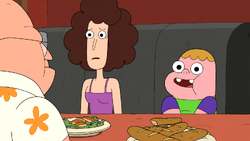 When Larry returns to the table, he meets Clarence, and reveals that his name is Clarence too. Ms. Baker and Clarence gets surprised, then Ms. Baker leaves to use the restroom. At Clarence's table, Mary wonders where Clarence went, and Chad decides to check on him. Meanwhile, Clarence tells Larry a lot of things, who has difficulty writing everything because Clarence speaks too fast. After awhile, Clarence wonders why Ms. Baker's still in the restroom, then the two decide to check on her. In the ladies' room, Ms. Baker is shown talking to her friend on the phone. Clarence and Larry calls Ms. Baker's name, and Ms. Baker is suprised to find out they came in the ladies' room, Chad also enters and Clarence invites him to talk to Ms. Baker.
Ms. Baker tries to get everyone to leave, then Larry starts throwing her some crab legs over the door. Clarence asks Ms. Baker if they can eat in the restroom because she told him not to at school, then Ms. Baker replies that she's not his teacher right now and that she's just a normal person. Clarence can't believe his ears and starts feeling sorry for Ms. Baker because he thinks she's lonely. At the table, Mary wonders where Chad and Clarence are, at that moment, a girl tells Joshua that there are a bunch of men in the women's restroom. Mary heard what she said, and worries. Meanwhile, Ms. Baker tries to convince Clarence that she's just fine.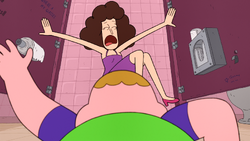 Clarence doesn't listen and tries to crawl under the door to hug Ms. Baker, and that's when Mary arrives. Mary tells all the men to get out, and she apologizes to Ms. Baker for what she had to go through. Later, everyone sits at the table to eat ice cream. Everyone has a good time. Clarence asks Larry for another crab leg. When Larry gives him one, Clarence accidentally flings the crab leg's stuffing across the room and Joshua trips over it, which sends all the dishes and silverware he was carrying flying, and one of the forks pokes his eye, and the episode ends with the ambulance truck arriving.
Characters
Minor Characters
Trivia
Episode Connection
This is the first episode to flashback a previous episode, in this case, "Nature Clarence"
Character Connection
In this episode, it reveals that Ms. Baker is dating, which explains Mr. Reese proposing to her in "Honk", before interrupted by Clarence
Because of the event's of the episode, 3 friendships were made: 1. Clarence and Larry 2. Ms. Baker and Mary, and Chad and Larry.
Joshua has developed fear of Clarence since "Nature Clarence", until in "Water Park", his fear turned into hatred of Clarence.
Continuity
This is the first episode to depict an LGBT couple.

According to Spencer Rothbell, the men were supposed to kiss on the lips, but this was censored by Cartoon Network to avoid controversy.
Controversy
As much with the episode, showing the two male couples, has led to other countries, either edited or removed the scene, while in countries, such as Kenya, had either suspended or banned the show from airing there, that alongside with other shows (such as Steven Universe, Adventure Time, Gravity Falls, The Legend of Korra, The Loud House, and Star vs. the Forces of Evil) that displays anything LGBT related were also halted from airing there.
Censorship
In the Latin American and Brazilian version, the scene with the two men kissing in the chick was completely removed, leading to Ms. Baker looking at the door and only seeing Larry going in, instead of the male couple as in the original version.

This was also the reason why the episode took so long to air in Latin America and Brazil.
Clips
References
Community content is available under
CC-BY-SA
unless otherwise noted.