Mystery Girl is the 20th episode of season 2, the 71th episode overall of Clarence.[2]
Synopisis
Clarence finds a friend accidentally while making prank calls.
Plot
The episode begins with Clarence, Jeff and Sumo making phone jokes, suddenly Clarence marks a random number and Bella is at the phone, therefore, she and Clarence are talking until the night, while Jeff and Sumo play together. When it's dark, Mary sends Clarence to sleep.
The next day, Bella wrote a song to Clarence and made him listen, meanwhile, Clarence makes a drawing. Later, both play to guess some sounds. When it gets dark, at dinner time, Clarence puts a megaphone on the phone so Chad and Mary can hear what Bella says.
The next day, Clarence is not going to play with Jeff and Sumo for talking to Bella, so they get angry. Bella talks to Clarence about her birthday, but Clarence focuses on something else and, not answering Bella, she cuts him off telling him he is very busy.
The next day, Clarence plays with Jeff and Sumo to jump from a small hill, but he does not play because he remembers it was Bella's birthday and he forgot it. Clarence wants to call Bella but he does not answer and he becomes sad. Then he leaves many messages to Bella. Bella's mother listens to all the messages. Mary, seeing Clarence sad, arranges a date with Bella's mom so they can see each other in real life.
At the event, Clarence hands Bella the gift and they both go to sleep while they talk about the series "The Mmm's, Clarence falls out of the swing and the episode ends.
Characters
Major Characters
Supporting Characters
Minor Characters
Gallery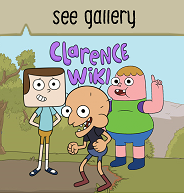 The gallery for Mystery Girl can be found here.
Transcript
The transcript for Mystery Girl can be found here.
Clips/Videos
Reference
Community content is available under
CC-BY-SA
unless otherwise noted.