"Money Broom Wizard" is the third episode in Season 1 of Clarence.
Synopsis
Clarence, Jeff and Sumo try to have fun at the arcade with only a dollar to spend.[1]
Plot
Clarence, Sumo, and Jeff are walking through the woods while Clarence holds a stick and Sumo crawls around on the ground with his hands and knees. Suddenly, he gets up and blocks Clarence and Jeff from walking further, warning them that their path is blocked by a tumbleweed. Clarence approaches the weed and tells his friends to leave it to the wizard, then puts a spell on the obstacle by hitting it repeatedly with the stick. After slowing down, Clarence informs them that the tumbleweed was just a scout,
and that the others fill be looking for him. Jeff asks them why they are walking through the woods when there is a sidewalk to walk through. Clarence replies that it is what Eyeball would expect them to do. After reminding him of their destination, Jeff agrees to keep trudging through the woods, and then pretends to shoot an arrow at the street. The three continue towards the building.
Clarence, Sumo, and Jeff finally arrive at the Pizza Swamp and Clarence decides to pick out their prizes that they will try to win enough tickets for. Jeff says they will be setting themselves up for disappointment if they don't have enough tickets at the end to purchase them, but then changes his mind when he notices a Laser Pointer that he likes, and Clarence says that he wants the disco ball. Meanhile, Belson is playing a game where the objective is to shoot reptiles in the mouth while a group of people and his friends watch in awe. Belson's player then heads into a kitchen and opens the fridge, causing Belson to be attacked by a large raptor as the "GAME OVER" text appears on the screen. Belson notes that all the games are so glitchy as Clarence, Sumo, and Jeff go to the ATM and Clarence tells them he had twenty dollars in his back pocket. Jeff and Sumo are excited,
but then Clarence realizes he left his money at home. The two groan in dismay when Clarence suddenly remembers that he had a "wizard" dollar in his shoe, and takes it out. He inserts the dollar into the machine and it puts out four tokens which Clarence quickly takes out. He hands one to the elfling (Jeff), one to the gnome (Sumo), and one to the wizard (himself). He lamments that they don't need the last token and throws it (though it is quickly fought over by four kids.) Clarence declars that despite them only having one token each that they will have the best day of all of the arcade. Belson then snickers, telling Clarence he's sure that they will.
Clarence leaves his stick behind and Sumo states that if they only have one game to play, he will make his count. Jeff wonders what game will be and surveys a few of the games in the arcade, then notices a game called "Money Broom" because it gave out so many tickets. Clarence spent his token on money broom and Jeff said he will win Clarence's token back, and he'll them all back. Clarence didn't seem too upset, and went to the remains of a girl's birthday party and ate their pizza crust, and some cake. Clarence alson found the girl's b-day hat, and decided to wear it. Meanwhile, Sumo was trying to figure out what game he was going to play. He finally picked a very big game to play. Clarence then started giving advice to people playing the games, like Try wanted a finger trap, and Clarence reached in the claw machine and grabbed it. He also helped a kid beat a game. He told the kid to use his hands. He played long. The kid whacked the seals eighty times. He got a lot of tickets.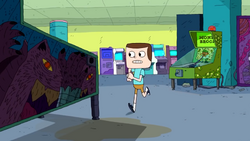 Belson told his friends that he was called the 'Laser Ghost' in Laser tag which they were about to play Clarence was then interested in playing laser tag with Belson, Nathan, Dustin, and Percy. Dustin told him it costed eight dollars. Clarence said he didn't have any dollars. He was then helping Guyler at ski ball. Clarence then said wizard hands didn't work on this one. He used a basketball from another game.
The ball bounced around the arcade. Meanwhile, Jeff cracked Money Broom's code, which was the tickets spet out every nine times and said the next quarter was a winner but Chelsea beat him to it and she won a bunch of tickets. The basketball bounced against money broom. Jeff won a bunch of tickets. Clarence said they were rich in tickets. He said they could have anything they wanted. Jeff got a laser pointer and Clarence got a finger disco ball. Jeff said it was too bright to see the laser.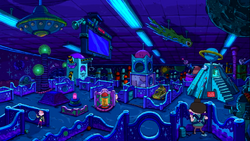 Clarence said they should go into a room which is dark. Jeff said okay and they went in there. It was the laser tag room. Belson wondered how Clarence and Jeff got in there. They didn't have any vests. Jeff pointed the laser pointer's angle higher. Clarence put his disco ball In the laser. It created a reflecting laser in all directions. Due to them not having vests, Clarence and Jeff were imune to the lasers. Belson, Nathan, Dustin, Percy, and all other people who had vests were hurt. Clarence was promoted to Cosmic Commander. He earned a badge and said that the badge was silver. Nathan said 'Nice job, Laser Ghost' while Dustin kept laughing. When Clarence said it was time to go, Sumo had the gear from his game but he kept it on and they were walking out of the arcade.
Characters
Main Characters
Supporting Characters
Minor Characters
Trivia
Cultural References
Errors
Clips
References