Malessica is a minor character in Clarence. She is a student in Ms. Baker's class.
Appearance
Malessica has pale skin, light brown hair and has large, round glasses. She wears a purple turtle-neck sweater, light aquamarine pants with pink flowers on it, and black Mary Jane shoes.
Biography
Malessica is a fourth grade student and one of Clarence's classmates. She is close friends with Kimby and Courtlin, and the trio can often be spotted together. When Malessica, Kimby, Courtlin and Clarence, (who was accidentally invited to their all-girls slumber party) play an origami love game, Clarence notices that Malessica is upset that Jeff may not like her. Clarence tells Malessica that since Jeff is his best friend, he can get them together. Malessica is hesitant about the idea but the other girls are excited about it.
After a failed attempt to call Jeff (in which Malessica was too scared to say anything so Clarence pretended to be her), the girls and Clarence continue having fun until Malessica mentions that she feels bad about not telling Jeff the truth. When they get to Jeff's house, Clarence parts ways and the girls decide to go back and throw sticks at each other, Malessica having decided she's no longer interested in Jeff. This all happened in the episode, "Slumber Party".
Personality
Malessica tends to be depicted as somewhat of a nerd. On top of wearing big glasses, she also has a vivid, yet geeky speaking style. For instance, in "Honk", when she and the other kids try to talk some sense into Clarence, she follows up on Courtlin's statement by telling Clarence that the horn "mega limits your vocabulary." She's also a girly-girl who likes dolls, ponies and playing dress-up.
Trivia
She had her first major role in "Slumber Party", which is also Kimby and Courtlin's first major roles as well.

Also in this episode, it is revealed that Malessica had a crush on Jeff, but later she stated that she doesn't know if she likes him anymore.

In "Turtle Hats", Malessica has a rock guitar, hinting that she plays it off-screen. However. it doesn't appear that she knows how to play it and she also doesn't sing very well.
Gallery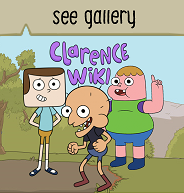 The gallery for Malessica can be found here.