Lauren is a character of Clarence. She first appeared in Big Trouble in Little Aberdale.
Appearance
She has about the exact height as Jeff and the others, has orange hair with an aqua green ribbon, she wears a light grey sweater jacket, a pale grey shirt underneath, a dark green skirt, long red violet leggings and brown shoes.
Personality and Description
She described as smart, much like Jeff, but he was able to learn a few things from her. She's been homeschooled since she was in kindergarten, so she wasn't very familiar with the outdoors anymore.
In her first appearance, she seem to know Jeff since they met when they were in Koyaanisqati's Class. Jeff assumed that Lauren left because she had lice, although realistically, she explained that the reason she left was because her dad assumed that she wasn't getting enough education, which led to her being homeschooled and ended up not being able to remember much of the outdoors, so Clarence, Jeff and Sumo decided to take her around town to places she's never been before. At Pizza Swamp, Lauren went into a crazed sugar rush mode, and when they took her back home, they tried to get her to calm down before they get in trouble.
Gallery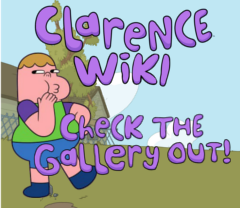 The gallery for Lauren can be found here.
Community content is available under
CC-BY-SA
unless otherwise noted.