Kevin's unnamed boyfriend is a minor character in Clarence. 
Appearance
Kevin's boyfriend has blonde hair, a khaki suit and a blue tie. However in "Company Man", he also wears a dark gray suit.
Episode Appearances
Season 1
Season 2
Season 3
Comics
Gallery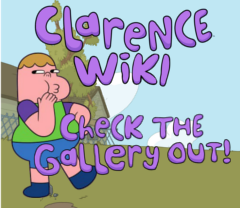 The gallery for Kevin's boyfriend can be found here.
Trivia
He and Kevin are the first same-sex couple to be seen on the show.
It is also the first Cartoon Network original series to show a same-sex couple that is male. The first time a same-sex couple that was seen in a Cartoon Network show was shown on Courage the Cowardly Dog where the one-off characters Kitty and Bunny were a bisexual couple (although subtly implied).