Hot Sauce is a roadrunner who only appeared in Bird Boy Man.
Info
Hot Sauce first appeared in the trunk of an old car with other roadrunner chicks and was kept and taken care of by Sumo. As time went on he started to grow up fast and was healed by then, Sumo played and was around with Hot Sauce a lot which caused trouble for his mom and his grades at school. Later Sumo walked him on the sidewalks of Aberdale like a dog (with Hot Sauce being carried by a rope which was used as a leash) and caused panic in certain parts of the town (such as bringing him into a movie theater which causes everyone to flee and run around at Rough Riders and taking a man's phone). Clarence and Jeff try to tell Sumo to release him back into the wild. When Sumo is about to walk Hot Sauce again Hot Sauces runs away with Sumo following him which leads them to a cliff in the woods, Sumo tries to grab ahold of him as he is about to fly off, but he fails and Hot Sauce flies off into the wilderness with a flock of geese.
Appearance
Gallery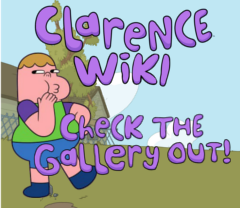 The gallery for "Hot Sauce" can be found here.
Trivia
He is a Greater Roadrunner because of the bird being native to Arizona and it has black crest feathers and a blue and red stripe around the eye as an adult, which Hot Sauce has.
The timespan for Hot Sauce to grow is very innaccurate and it would be impossible for a baby bird to become an adult within a month.
It's unknown what happen to Hot Sauce's other siblings.
Community content is available under
CC-BY-SA
unless otherwise noted.