Dustin Conway is a supporting/minor character in Clarence. He is a student in Ms. Baker's class.
Appearance
In the pilot, he has blonde hair, a blue shirt, and a triangle for a nose.
in "Fun Dungeon Face Off," he is much paler than in later episodes, and he wears a blue shirt rather than a yellow one.
In all later episodes, he wears a yellow long-sleeved shirt, red pants, and white shoes. He has pink skin (like Clarence), a large nose and overbite, and orange hair.
Personality
Dustin likes to have fun. He likes video games, soccer, and pinecone wars. He enjoys hanging out with Belson, Nathan and Percy. He, along with Nathan, collects Tappy Cards. Dustin is cheerful and somewhat mischievous, but he has a good heart.
He seems somewhat obnoxious in the pilot, as seen when he laughs and interrupts the class.
Trivia
In "Pretty Great Day with a Girl," he talked about girls a lot, and even sounded like one quite a bit, although it may have been his overbite that made him sound like that.
In the online game Clarence Saves the Day, it is revealed that Dustin does karate.
He looks similar to Randall Weems fro​m Recess.
It is revealed in "Animal Day" that he can turn into a werewolf from the full moon.
In "Lost Playground," it is revealed that Dustin is dating Rita.
Gallery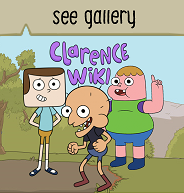 The gallery for Dustin Conway can be found here.