Dust Buddies is the thirty-sixth episode in Season 1 and the thirty-sixth episode of Clarence overall.[1]
Synopsis
Belson's mother attempts to teach him a lesson by making him clean the house, rerouting the maid to Clarence's house instead.[2]
Plot
Episode begins with Clarence leaving his house to hang out with Belson. At Belson's place, Clarence is dressed as a "robot slave" while Belson plays his videogame, and Clarence keeps doing things to annoy him. When Belson's mom, Cynthia, comes to the door, she wants to show Belson that their neighbor, Hank, has found their dog on his lawn because Belson let the dog run free instead of walking it like he was supposed to. Belson doesn't care and continues playing his videogame. A few moments later, as Hank is leaving the house, Cynthia tells him to excuse Belson's behavior, then Hank tells her that discipline earns respect. Cynthia thinks Belson already respects her, then a few clips are shown where Belson doesn't appreciate anything she does for him, and that's when Cynthia realizes that Belson doesn't respect her. In the kitchen, Belson throws food out the refrigerator because there's nothing he wants to eat in there. Hank's words echo in Cynthia's head, so she tells Belson to clean up the mess he made. Belson tries to get away with having his robot slave, (Clarence), clean it up, but Cynthia doesn't allow it, so Belson calls their maid to do it. Cynthia takes the phone from him and tells Clarence that his family is going to have their cleaning service for the day because she wants Belson to do all the cleaning instead.
Clarence rushes home to tell Mary the news. Mary is nervous about having a cleaning service because the house is a mess. Clarence thinks Mary isn't making any sense, then she tells him that she's going to need his help to clean the house. Meanwhile at Belson's place, Cynthia tells Belson to take out the trash and wash the dishes, but Belson does everything wrong on purpose to try and get out of doing chores. Cynthia gets mad and tells him there're things she's bad at doing too. At Clarence's place, Clarence quickly gets bored with dusting everything, until Mary makes it fun by telling him that the dust is giant snail food and that they have to get rid of the dust before the house is full of hungry snails, this motivates Clarence to keep dusting. At Belson's place, Belson's handheld videogame system loses power, so he goes upstairs to find new batteries. When he passes by his room, he sees Cynthia playing his videogame on the computer and killing all the guys in the game. Belson wants her to stop, but Cynthia tells him to finish cleaning up the kitchen first, and that's when Belson starts doing his work faster. As Belson throws out the trash, Hank shows up and tells him that helping out is important because he never helped out his mom, which caused them to not speak to each other for years, then Hank walks off telling Belson to remember what he just said.
Meanwhile at Clarence's place, Belson's maid, Lupe arrived. Lupe doesn't know what to clean because the house already looks spotless. At Belson's place, an exhausted Belson enters his bedroom to tell Cynthia about everything he cleaned, then he asks her if she can stop playing his game, and Cynthia tells him to clear out the Christmas decorations from the garage first. At Clarence's place, Mary tells Lupe the truth that she and Clarence had already cleaned the house before her arrival, then she offers her some coffee. At Belson's place, Belson has a hard time reaching a Santa Claus statue. When he falls off his stool, the Santa Claus statue falls onto him. Meanwhile at Clarence's house, Mary, Lupe and Clarence talks in the living room, and Lupe tells Mary that her relationship with Clarence reminds her of an old folk legend, which she tells them. At Belson's place, Cynthia removes the Santa Claus statue off Belson, and tells him that he's too weak and gummy to handle such big jobs, and she gives him a hug. Later, Belson goes into his bedroom to play his videogame, only to find out that Cynthia transformed the guy in his game into a gummy bear with his face, then Hank asks to join his team, and Belson closes the blinds on him, ending the episode.
Characters
Major Characters
Supporting Characters
Minor Characters
Trivia
This episode features Cynthia's first major appearance.
The name of the episode is a pun on "dust bunnies".
Cynthia says to Belson, to take the Christmas decorations of the garage, meaning this episode is near to the Christmas.
Episode Connection
Cultural References
The game console that Belson was holding is similar to Sega Nomad, due its rectangular design and its very limited battery life.
The game that Belson played on his computer most likely a parody of Runescape or Guild Wars 2.
During the final part of this episode, when Hank wanted to join Belson's team, Belson closed the blinds and the "Expired" sound effect plays.

The sound "Expired" played 5-6 times on this episode.
Gallery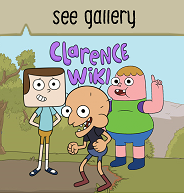 The gallery for Dust Buddies can be found here.
Transcript
The transcript for Dust Buddies can be found here.
Videos
References
Community content is available under
CC-BY-SA
unless otherwise noted.