Debbie Reynolds is a minor character in Clarence. She sits in the front row in Ms. Baker's classroom. 
Biography
Debbie is a fourth grader and one of Clarence's classmates. She is often seen in various places around the school as Clarence goes about his adventures. She has yet to make a major appearance; however.
Appearance
Debbie is a tall, thin girl with blonde hair and big blue eyes with long eyelashes. She wears a pink shirt, green skirt and pink shoes. 
Personality
Due to her small amount of screen time, not much is known about Debbie yet. Debbie, like any normal kid, seems to love having a fun time as she's seen having a blast in the play area of Rough Riders Chicken in "Fun Dungeon Face Off". She, like most students, is also eager to hop crazy and/or fun trends. For instance, in "Clarence's Millions", she's seen fighting with Kimby and struggling like all the other kids to get the coveted Clarence Dollar's. In "Honk", she's seen participating Clarence's horn symphony.
Gallery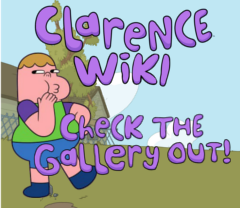 The gallery for Debbie can be found here.
Trivia
Her appearance is a little similar to Dee Dee from Dexter's Laboratory.
She has a light blue backpack.
She has 5 buddy stars in "Clarence's Millions".
There was a real person called Debbie Reynolds, who was a famous actress.
Community content is available under
CC-BY-SA
unless otherwise noted.