Dale Gillis is a minor/background character in Clarence. He first appeared in "Pretty Great Day with a Girl".
Appearance
He has a light shoulder-height blonde hair with pinkish-orange skin and appear to look muscular , has with tatoos on the neck and arms, he wears a black cap on backwards, a medium grey shirt, a dark grey shorts and shoes and has grey sock, and wears a black earing.
Description
Theres a little known about him since in every episodes he appears, he worked on different jobs, a bit akin to Joshua, occasionally on certain episodes. In "Pretty Great Day with a Girl", he appears as a mover for Amy Gillis and her mother as he moves most of their stuff into the moving truck, and in "Sneaky Peeky", he works at the theater, and in "The Tails of Mardrynia", he works for Pizza Swamp as a pizza delivery man.
Episodes
Season 1
Season 2
Season 3
Shorts
Gallery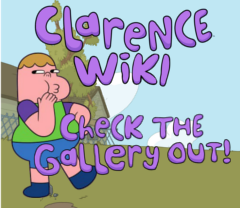 The gallery for Dale can be found here.