Cloris is a minor character in Clarence. She is an old woman who makes her first appearance in the episode "Cloris".
Appearance
Cloris is a elderly woman with wrinkly skin and gray poofy hair. She wears a green sweater with a white collar on it and a plaid orange skirt. She wears pink slippers with gray socks. For accessories, she wears black sunglasses, black watch, and sits in a wheelchair.
Personality
Cloris, at first, seems like a grumpy old woman who hates everything and it's always angry, but she can be kind and fun when she makes friends with someone. She loves her cat, Sassy, and he plays piano. However, Cloris stated, indirectly, that she is waiting to die, probably because she doesn't like living in the residence. Cloris used to be friends with Rosie, until she betrayed her with her treasure, that includes a song called "Rosie is a slugburger".
Episodes
Trivia
Cloris stated that she wants to die in "Cloris".
Even though she hates Rosie, she was sat next to her in a sofa in "Public Radio".
Gallery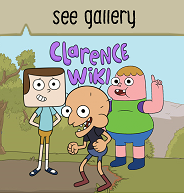 The gallery for Cloris (Character) can be found here.