Clarence is an American animated series on Cartoon Network created by Skyler Page. It officially premiered on April 14, 2014 with "Fun Dungeon Face Off". The "Pilot" was originally on Cartoon Networks site on May 21, 2013 and February 17, 2014, The show is about an optimistic boy named Clarence and his friends, Jeff and Sumo.
Plot
The show focuses on the daily life of Clarence Wendle, a fun-loving and spirited 9-year-old boy, and his best friends: Jeff, who is the more intellectual sort and Sumo, who often uses drastic measures when solving problems.
Clarence lives with his mother Mary and her boyfriend Chad in the fictional city of Aberdale, Arizona. Each episode focuses on the daily-life situations and problems that Clarence and his friends encounter, and their everyday adventures and life experiences as kids.
Other characters include students and faculty at Aberdale Elementary, Clarence's school. Certain episodes focus on the life of supporting characters, like the citizens of Aberdale and Clarence's classmates.
Production
At their 2011 upfront, Clarence was announced along with various other series. The show was created by Page, a former storyboard artist for Adventure Time and revisionist for Secret Mountain Fort Awesome. He is the fourth creator on the network who graduated from the California Institute of the Arts, and at age 24, he is also the youngest. As part of their shorts development program in 2012, the show was developed at Cartoon Network Studios; four others, Steven Universe, Over the Garden Wall, We Bare Bears and Long Live the Royals also came from this initiative.
Page, together with creative director Nelson Boles, conceived the show at CalArts. It was further considered when Page became hired at Cartoon Network Studios. A crew of two or three polished the pilot episode; after it had been picked up, a crew of 30 to 35 writers, storyboard artists, revisionists, colorists and designers were employed. Meanwhile, animation is outsourced to South Korea through the Saerom Animation. Page explained that the hardest part of production was keeping pace, especially where once an episode is completed, one must start over. He called this "exciting", but "very challenging".
According to writer Spencer Rothbell, the show was created with a naturalistic tone, similar to cartoons of the 1990s, combined with a more modern feeling. Given this naturalism, writers can reference works that have inspired for them or fit the genre of an episode. He ultimately felt that it was about "empowering kids and having fun". Rothbell also avoids "pigeonholing" into one type of story, and that while some plots are mostly character-driven, others are "based on one idea that we think is really funny". Inspiration also came from the shows Page watched as a child, which invoked more poignant and relatable situations. Despite this, elements of fantasy are allowed, and that conveying both incongruous to one another was one technique he particularly enjoyed. Boles noted that the art direction called for inconsistent character design to avoid having to fit model sheet with the universe perfectly—a result of what he dubs the Simpsons effect. Attention is also paid to background characters in order to expand variety in its plot and universe.
Episodes
There are currently three seasons. You can view the complete list of confirmed episodes here. Season 3 is the final season of the series.
Intro/Outro
Main article: King of the World
Main article: Good Habits (and Bad)
International Airdates
August 4, 2014 (Latin America/Brazil)
September 3, 2014 (Canada)
September 5, 2014 (France)
October 6, 2014 (Australia/New Zealand)
October 13, 2014 (Turkey)
November 3, 2014 (UK/Ireland)
November 24, 2014 (Central Europe)
November 29, 2014 (Portugal)
January 25, 2015 (Spain)
March 1, 2015 (MENA)
March 5, 2015 (Japan)
June 1, 2015 (India)
Reception
Clarence was originally previewed at the 2013 San Diego Comic-Con International. Cartoon Network had commissioned twelve quarter-hour episodes, with the pilot episode airing after the Hall of Game Awards show on February 17, 2014. The pilot was nominated for an "Outstanding Short-format Animated Program" at the 65th Primetime Creative Arts Emmy Awards in 2013. The first episode, broadcast April 14, 2014, was met with an estimated 2.3 million viewers, outperforming shows in its same demographic in the time slot by double and triple digit percentages. Meanwhile, preliminary data identified it as the most watched series premiere for the network that year.
In a three-star review, Emily Ashby of Common Sense Media alerted parents of "a similar brand of absurdity and crudeness" as Adventure Time—though less severe—but praised the cast as "oddly likable". Nancy Basile of About.com applauded the dialogue for its lengthiness, and considered the relationships between the characters to be dynamic and genuine, with some comedy thrown in. Whitney Matheson of USA Today found Clarence to blend optimism and surreal humor in "just the right amount", and encouraged children and parents alike to watch its premiere. In Animation Magazine, Mercedes Milligan described it as "a breath of fresh suburban air" and a celebration of childhood. Nivea Serrao of TV Guide contrasted the show with most fantasy animated series. Brian Lowry of Variety called it "so quirky and idiosyncratic as to feel fresh", although it sometimes tread in "well-worn territory", but found the character designs unattractive.
The show gained considerable press after featuring a gay couple in the episode "Neighborhood Grill", with coverage in various tabloid and entertainment news sites, and in LGBT-oriented sites as well. The scene involves two male characters greeting each other with kisses on the cheek while at a restaurant. Rothbell originally had the couple kiss on the lips after receiving flowers from the other, but this went unapproved by the network. He added that the scene was a "minor throwaway moment", albeit "better than nothing", and anticipated that "one day the main character can be gay and it won't be a big deal". Joe Morgan of Gay Star News called the buildup to the scene "an old joke", a notion shared by Dan Tracer of Queerty, although he praised their portrayal "just as normal people".
Trivia
The show is rated TV-PG.
The crew of Clarence, says the show is heavily based off of their childhoods and cartoons from the 90s (Hey Arnold, Recess, Ed Edd n' Eddy, Doug, etc).

This is one the only 2 CN originals to make references based on how it was before the 2000's, first being Regular Show, which references to things in the 1980's and 1990's.

Clarence's name appears in the "Steven Universe/Uncle Grandpa crossover", "Say Uncle".
Clarence, Sumo (who is depicted with eyelashes), Jeff, and Belson (only one with a speaking role), alongside with characters from other Cartoon Network shows (Adventure Time, Steven Universe, Regular Show,The Amazing World of Gumball, Samurai Jack, The Powerpuff Girls (2016), The Grim Adventures of Billy And Mandy, Johnny Bravo, Dexter's Laboratory, Foster's Home for Imaginary Friends and Ben 10: Omniverse) made an official cameo crossover appearance in Uncle Grandpa short " The Grampies".
Clarence And Mary made a brief crossover appearance, alongside with Regular Show and Uncle Grandpa in a Gumball Episode "The Boredom"[1].

Same said for once again in a Uncle Grandpa episode, "Cartoon Factory", but only made Clarence purple and has black hair and was named as "Clifton", alongside, other CN shows, such as Regular Show (Rigby and Benson), Adventure Time (Jake (but has the Scooby-Doo appearance) & Finn), Foster's Home For Imaginary Friends (Bloo), The Powerpuff Girls (Bubbles), and The Amazing World of Gumball (Darwin) also made their cameo appearance.

Also according to the podcast made by Pan-Pizza, who the showrunner Spencer Rothbell had explained that another Cartoon Network show, Uncle Grandpa was originally going to be in a planned crossover episode where he played as the tornado that twists though Aberdale, however the idea was scrapped due to the unfunny nature of the episode because of the actual disasters caused by tornadoes (it was supposed to be a parody of disaster films such as Twister, Deep Impact and Volcano, where it would have been treated seriously until the end, which is where Uncle Grandpa would have appeared).[2]

Ironically one episode that depicted a potential disaster, was sucessfully greenlit and made its way onto television. The episode's ending depicted a plane (that was taken over by Chad) that resembled a plane about to crash. The plane's pose itself resembles of United Airlines Flight 175 as it crashed into the South Tower of the former World Trade Center in the 9/11 attacks. The episode itself would also become uncomfortable to Latin American viewers following the tragedy of LaMia Flight 2933 at the end of November 2016 (the actual disaster did not involve a hijacking). The episode was banned in the United States with very minimal reruns following the tragedy.

There was also originally going to be a episode where Clarence dies by falling from the tree and becomes a ghost to jokingly haunts everyone in Aberdale, was also rejected, because he describes as a dumb idea and it eventually never was made.
In Kenya, this show, alongside with Steven Universe, Hey Arnold, The Legend of Korra, Gravity Falls, The Loud House, Star vs. The Forces of Evil, and Adventure Time were banned due to LGBT themes And other reasons [3]
Voice Actors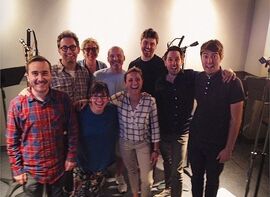 Videos
Gallery
References