Charles Caswell is a character from Clarence. He was the grandfather of Chad and the father of Mr. Caswell and "best friend" of the baseball player, Salty Duncan.
Appearances
He has the same facial appearance as his grandson, Chad has, with only exception with him having a rather long mustache, he mainly wore a 19th century black suit with a purple undershirt.
History
Main Article: The Trade

As Chad, who was looking for the Salty Duncan card that Grandpapi had for years and passed it down, with Chad being the only relative that has it, after Clarence had accidentally traded to most of his friends, which made Clarence felt guilty about, after Chad had told Clarence the story of how Grandpapi met Salty Duncan, who's a baseball player that had interacted with Grandpapi, who became "friends", until when Salty had to serve for the war then later had to marry, this had made Grandpapi very upset about it, and the card is the only thing he had left of remembering him. Though if you pay attention, Salty and Grandpapi seem to have a closer relationship than "just friends". The two are seen smiling at each other then walking off into the sunset in each other's arms. When Salty gets married, Salty is seen looking extremely uncomfortable in his wedding portrait. Then a scene shows Grandpapi is sobbing over Salty's card with a note from Salty that reads "To my BIGGEST fan xoxo".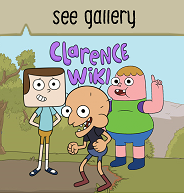 The gallery for Charles Caswell can be found here.
Community content is available under
CC-BY-SA
unless otherwise noted.