Chad, is a minor character in Clarence. He is Mary's boyfriend, and one of Clarence's friends and step-dad.
Biography
Chad is Mary's live-in boyfriend and a father-figure to Clarence, who looks up to him. He has a bachelor's degree and works as a sign spinner at Hip Clips, which is also where Mary works. Mary's mother seems unimpressed with Chad and mentions that Mary's former husband (or boyfriend), had a "nice car" and other nice things, unlike Chad. Mary's father; however; did not even notice that Chad wasn't the same person as Damian (Hurricane Dillis).
Appearance
Chad has a very ape-like appearance, with shoulder-length brown hair and permanent stubble. Chad is very tan with big, hairy arms and legs. He usually wears a white t-shirt, torn blue shorts and socks. In "Dinner Party", he wears sandals.
Gallery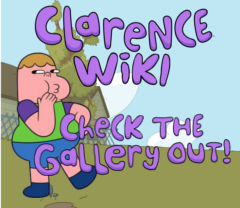 The gallery for Chad can be found here.
Trivia
Chad bears a resemblance to Donkey Kong.
In the Cartoon Network game, "Clarence Saves the Day", the monkey toy has Chad's face.
In "Pretty Great Day with a Girl", it's revealed that Chad is Clarence's step-father.
In "Man of the House", it is revealed that Clarence sees Chad differently, to Clarence, Chad looks like a captain, signifying just how much Clarence looks up to him.
In "Neighborhood Grill", it is revealed that Chad has a bachelor's degree.
In Where The Wild Chads Are on his credit card, it shows his full name is Charles Caswell III.
In "Hurricane Dillis" he uses a Dragon Sword to cut meatloaf.
In "Fishing Trip", after losing all of his hair, Chad resembles Homer Simpson from The Simpsons.