Bird Boy Man is the 3rd episode of season 2, the 54th episode overall of Clarence.[1]
Synopsis
Sumo discovers an injured roadrunner, names him Hot Sauce and nurses him back to health.[2]
Plot
The episode begins with Sumo having fun with his friend in a rural area, but then he has to go. On his way, he stops to see his baby birds, which were kept in the front of a car, he feeds them and goes to school, although one of them gets out and makes Sumo stop for putting it back in the car.
At school, Ms. Baker reads a book, Clarence makes Jeff laugh by showing him a pencil with a weird shape. Clarence was about to show Sumo his pencil, but suddenly, Hot Sauce, the bird who got out of the car, gets hit with the window and gets injured, Ms. Baker tells everyone to calm down and keep reading because there is a death in the chapter they're reading. Sumo is still worried about the bird and he lies to Ms. Baker saying he has to go to the bathroom and leaves the class to see Hot Sauce. He takes him back to the car, but he realizes that the rest of the birds are gone. Sumo looks everywhere but the rest of the birds are anywhere.
When he gets home, he cures the bird's leg and plays with it, suddenly his mother comes in his room to tell him that Ms. Baker called home, then she takes him to take a bath, Sumo does not want to do it. Suddenly Hot Sauce gets in the bathroom and Sumo comes out of the bathroom without dressing to play with his bird. When he finishes playing with the bird, Clarence and Jeff arrive at his house to play and give him all the homew, both ask him why his room is messy, Sumo presents them with Hot Sauce, but the bird annoys them both.
Then the three of them try to play with the bird, Clarence and Jeff end up hurting, he wants to play without Hot Sauce but Sumo is offended knowing that neither of them likes his bird, he orders them to leave his house and then has a "boys night" with Hot Sauce; in Rough Riders Chicken, a girl asks her dad if she can keep the bird, which starts to run all over the place, when they go to the movies, they are passing a bird movie, then Hot Sauce scares everyone and Sumo enjoys of that. While they return home, they find a bird, but Hot Sauce and the little bird begin to fight, which Sumo does not like, he tries to calm the bird, although he attacks it.
Then, Sumo is doing his homework, very bored, he is quite upset because Hot Sauce makes a mess in his room, So he decides to take it out, there, the bird escapes and Sumo goes to retrieve it, but he does not succeed, suddenly they reach the top of a mountain and Sumo manages to grab his rope, where Clarence and Jeff arrive to try to stop him, Sumo He does not want to leave it, Jeff explains that he belongs to nature, Clarence convinces him to leave it, but the bird takes Sumo and shortly after it falls, causing many wounds.
Then, at Sumo's house, Sumo is resting, he has a cast on his foot, Clarence is touching his plaster, until Sumo's mother arrives and tells Clarence to leave him alone and asks Sumo if he wants something more, she is going to clean up the mess left by Hot Sauce, the three of them continue talking, and the episode ends with Clarence throwing up Sumo, pretending that he was a bird.
Characters
Main Characters
Minor Characters
Trivia
Episode Connection
Gallery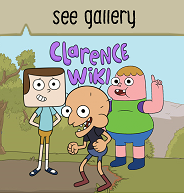 The gallery for Bird Boy Man can be found here.
Transcript
The transcript for Bird Boy Man can be found here.
Clips
References
Community content is available under
CC-BY-SA
unless otherwise noted.