Big Game is the 12th episode of Season 3, the 102th episode overall of Clarence.
Synopsis
At a baseball game that Belson's dad gave them tickets to, Chad, Clarence, and Belson try to find ways to keep themselves entertained; Clarence tries to get the attention of a team's mascot.
Plot
Chad and Clarence fix the roof of the House of Belson , while he records them. Chad asks Mr. Noles to pay him 300 dollars, but Mr. Noles has a better idea: Give them tickets to go see a game, when Mr. Noles leaves, he leaves Belson with them, who will also go to see the game. A man announces the match, he also warns on the megaphone that there will be a gentleman called " Hammy ", who sneezes to the people. Belson already entered the VIP room, but Chad and Clarence have to go to the highest part of the stadium, far away from Belson. There was also EJ with Rosie , who was asleep.
In between-time of the game, Clarence has fun with the television of the stadium and when he sees a video of Hammy, he gets excited and wants to sneeze. The video ends and the game resumes, meanwhile, the spectators make the famous "wave". A player does something incredible and EJ loses it, she gets very angry with Chad and Clarence. Hammy goes near Clarence, making him see it, but quickly Hammy retires from there, then Clarence pursues him. At the same time, Belson plays a sports game with local employees.
Clarence arrives at the food court and believes he lost Hammy, however, he is seen on television trying to joke Chad. Chad at first has fun, but begins to bother the attitude of Hammy, he was about to sneeze on Chad, although at that time comes Clarence and throws to Hammy dressings, this also sneezes to Clarence, who is glad to have been sneezed by your idol Suddenly Mitch arrives, full of what Hammy sneezed, Mitch gets angry and attacks Hammy, but without being able to do much, the police arrest him. Chad and Clarence leave the stadium, Chad remembers that he should also take Belson, but he forgets and the episode ends.
Characters
Main Characters
Supporting Characters
Minor Characters
Gallery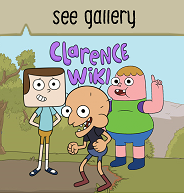 The gallery for Big Game can be found here.
Transcript
The transcript for Big Game can be found here.
Videos
Reference
Community content is available under
CC-BY-SA
unless otherwise noted.