"That never happened."


Please note that if this is added to an article, which has no connection to the series' canon, is considered non-canon.

Belson Touch is the fifth short of Clarence (series). It was first released on Cartoon Network website and it's YouTube channel.
Plot
Clarence daydreams about having a "Belson touch" that gives anything he touches Belson's face.
Characters
Minor Characters
Gallery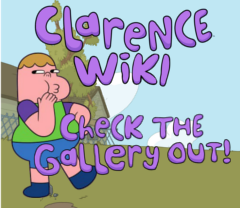 The gallery for "Belson Touch" can be found here.
Trivia
This is the second time that Belson's name was used.

First being in "Belson's Sleepover".
While ironically, despite of nearly in every object as well as characters that has Belson's face, he himself did not appear throughout the entire short as physically.
Cultural Reference
This Short was heavily based on a Greek Mythology, King Midas, Where if the the king wishes gold, but ended up touching everything that turns into gold.
Video